Customize Your Ford Truck With Sherrod At Jim Ellis Ford

When a factory-standard truck just won't do, it's time to check out a Sherrod custom truck. These powerful vehicles take the Ford truck lineup to the next level. The final product is a truck that works as hard as you do.
The partnership between Sherrod and Jim Ellis Ford will see us carry a wide variety of Ford custom trucks. We are excited to bring these exceptional vehicles to our community in Atlanta, GA.
If you're ready to get into a new custom truck that will make you feel like you're on top of the world, then it's time to browse our inventory of new customized trucks equipped with Sherrod truck upfit packages.
The Sherrod Eclipse Edition
We are thrilled about our new partnership with Sherrod. Since 1979 the company has been building customized vehicles for its customers. One popular package offered by Sherrod is the Eclipse Edition.
Any Sherrod custom Ford truck that has been fitted with the Eclipse Edition package enjoys a wide variety of upgrades. These include:
Six-inch Ford Sherrod Private Label Lift
Differential Drop Brackets and Armored Skid Plate
22-inch Eclipse Wheels
35-inch R22 Toyo® Open Country Tires
Designer Leather with Custom Black Diamond Stitching
These upgrades will turn your truck into an off-roading machine that can handle the toughest trails. The lift and skid plate will protect the vehicle while you forge forward on massive 35-inch tires. Eclipse Edition trucks by Sherrod are also eye-catching trucks that will turn heads anywhere you go.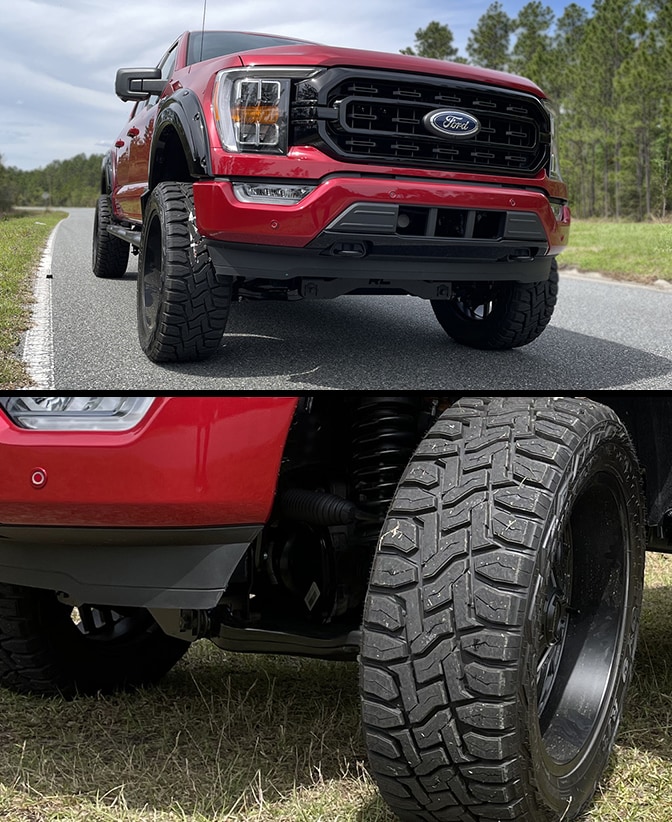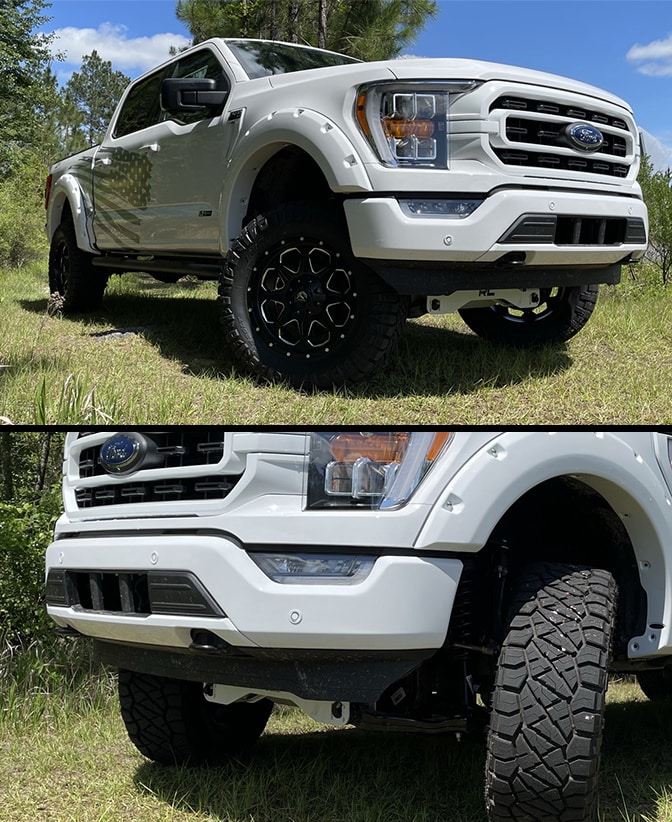 The Sherrod LZ-1 Edition
Sherrod also offers an LZ-1 Edition package for your Ford truck that is sure to impress. The LZ-1 edition package features a color-matched matte waving American flag decal on both sides of the truck in honor of the brave men and women who serve this country. The LZ-1 package includes:
Six-inch Ford Sherrod Private Label Lift
Custom Brake Line Extension and Brackets
20-inch Sherrod Private Label wheels
35-inch R20 BFGoodrich® All-Terrain Tires
Custom Monochromatic Painted Fender Flares and Vents
The LZ-1 package that pays tribute to our heroes does them justice by being packed full of features and upgrades. You'll ride high above the road in a custom LZ-1 Ford truck, and everyone will know where you stand, thanks to the American flag decals on the sides of your vehicle.
The Sherrod Signature Edition
The Signature Edition package aims to give customers the most customization over their Sherrod Custom Ford truck. Where the Eclipse and LZ-1 packages have their own themes, the Signature Edition is all about you.
The Signature Edition package includes several parts that we've seen in the Eclipse and LZ-1 packages. These include the lift kit, Sherrod Private Label wheels, and the 35-inch BFGoodrich® tires. Where this package really shines is in the optional features and upgrades:
Tinted Windows
20-inch Front Bumper LED Bar
Wheel Well-Mounted Rock Lights
Custom Two-Tone Paint
Hydro-Dipped Carbon Fiber Interior Accents
The Signature Edition package offers a Sherrod custom vehicle built just the way you like it. You can't go wrong with any of the upfit options. All three of these custom Ford trucks are rugged and, at the same time, luxurious.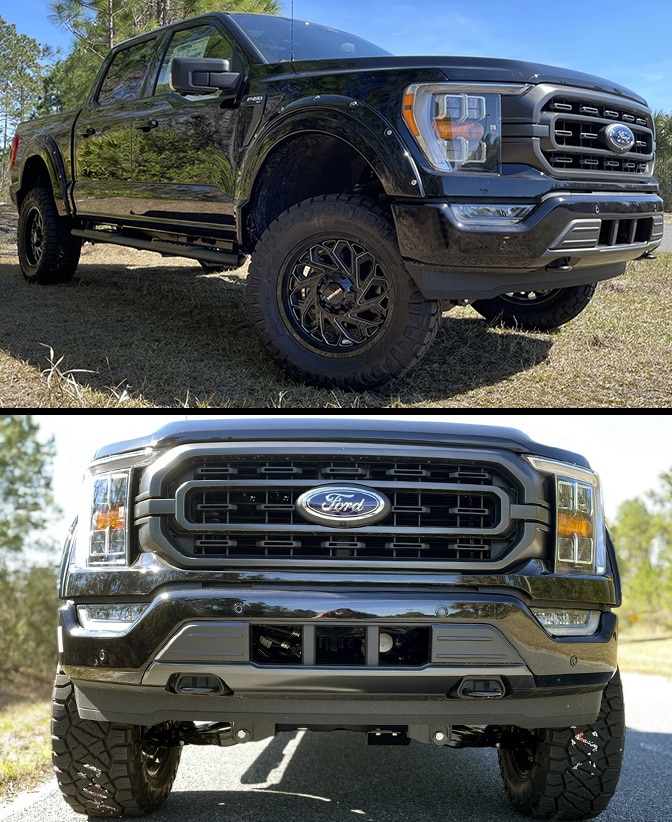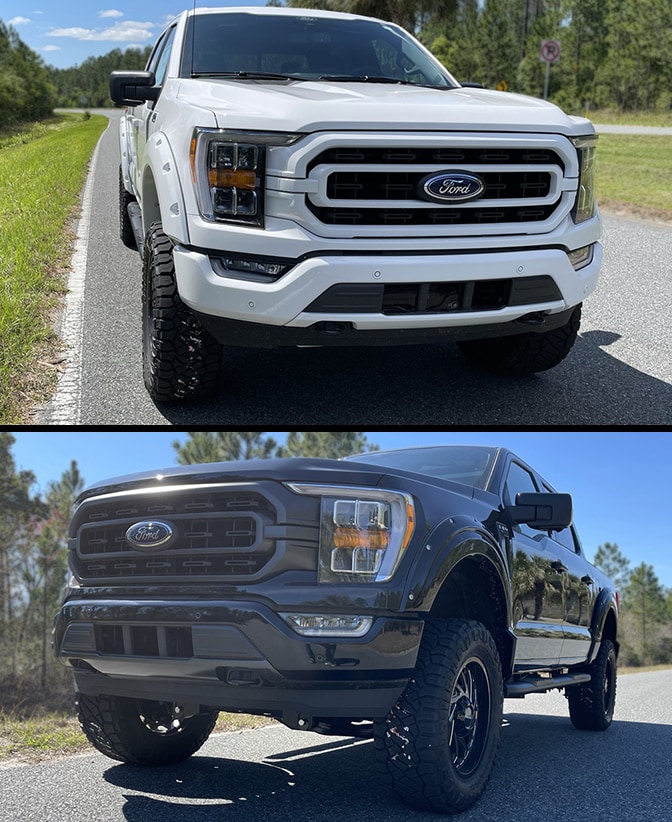 Custom Ford Trucks at Jim Ellis Ford
The entire staff of Jim Ellis Ford in Atlanta, GA, is pleased by our partnership with Sherrod. We look forward to seeing the smiles on our customers' faces when they leave our dealership in their new custom trucks.
If you're looking for a more budget-friendly option, you'll want to check out our pre-owned customized trucks. Whether you decide to get a pre-owned truck or have your own built, give us a call or stop by the dealership today to get the ball rolling on your personalized vehicle.
---
FAQs
What is a Sherrod Custom Vehicle?
Sherrod is a final automotive assembly company that offers custom vehicle packages. A Sherrod truck is durable, rugged, stylish, and even luxurious. You'll be able to conquer whatever obstacles you find, on or off the road, and look great doing it. In short, a Sherrod custom vehicle is whatever you want it to be.
What lift does a Sherrod Custom Truck use?
Sherrod is a renowned custom performance vehicle company. They offer a wide variety of options for personalizing your Ford truck. Due to their fame, Sherrod has their own Private Label parts that offer superb performance and outstanding value. The Sherrod Private Label six-inch lift kit is a great example of the Private Label parts used by the company.