Ford Performance Trucks Lineup And Specs
As soon as you press down on the pedal in Ford performance trucks and ask for more, they'll respond with a fury of strength, substance, and style. That's what Ford trucks are built to do, and these three performance truck packages will enthrall both drivers and passengers alike with everything they bring to the table. If you're looking for high-paced power at full strength and want your truck to stop the show wherever you pull up, this trio of Ford performance trucks is ready to make themselves at home in your driveway.
The Rocky Ridge, Tuscany, and SCA Performance Lifted Trucks are some of the most popular models in our new custom truck inventory for local car enthusiasts and automotive experts alike.
Custom Performance Trucks in Atlanta, GA
Ford performance trucks are ready to rock no matter which version you choose. We have three distinct Ford performance trucks that are more than capable of helping you through a busy schedule.
There are several iterations of the Ford Rocky Ridge Trucks and each is geared for going up and over rocky terrain. Large off-road wheels that you'll be able to customize and lift kits that leave you flying high above the rest. Custom tires are available and the Rocky Ridge truck trims will remain solid in the face of harsh climates as well.
The line of Ford Tuscany Trucks will take your Ford F-150 or Ford F-250 to another world. There are three models within the Ford Tuscany lineup: the Ford Tuscany FTX, Ford Tuscany Black Ops, and the Ford Tuscany Tonka. These striking silhouettes are sure to capture the gaze of slack-jawed onlookers who can't believe you've made such a gorgeous vision come to life.
To round out the selection of Ford performance trucks, we also have the groundbreaking brilliance of the Ford SCA Performance Lifted Trucks. These hard-charging behemoths let you know what time it is from the first moment you see their massive frame pull into view. They've got several eye-catching accents that radiate strength every time they exit the driveway. Enjoy a couple of trucks that, from the very first ride, you won't accept the subpar performance of another competitor's model again.
What Makes Each Truck Its Own?
Our Ford performance trucks are chomping at the bit for you to call their number and take them to a myriad of destinations near and far. Don't settle for any old truck, capture a sense of adventure as you've never felt before inside these three outstanding truck builds. Ford models are ripe for upgrades like these because they have an unbreakable foundation that's as sturdy as their reputation. Take on the top tier of heavy hauling models that never say no and get yourself into one of our gleaming new Ford performance trucks.
There are a ton of iterations of Ford Rocky Ridge Trucks to choose from and all bring their own signature style to a fortified foundation built to exceed every expectation. Choose from packages like the Altitude package with 20-inch chrome off-road wheels; the slimline fenders on the Alpine package; the 6-inch suspension lift on the K2 package; the blacked-out midnight marvel of the Stealth & Stealth XL packages; the unbridled horsepower of the SC480 and SC560 packages, and more. There is no shortage of options for drivers who want a truck that looks absolutely stunning wherever you take it and that drives even better.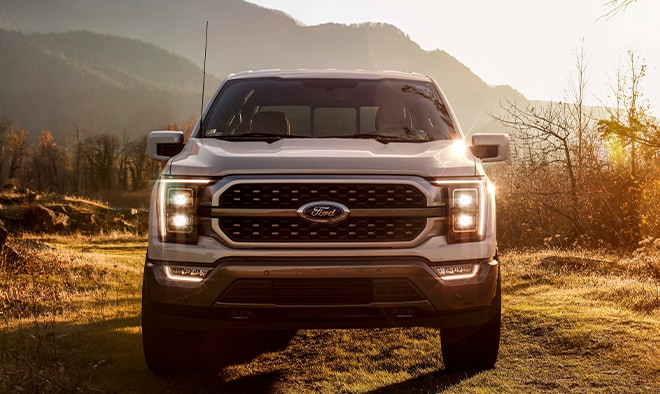 Ford Tuscany Trucks come in a trio of packages and all of them will make you do a double-take once you see them fly past. The FTX comes in a range of vibrant colors and pumps up your F-150 or F-250 like it's coaching your truck in the weight room.

Striking packages like the Black Ops model and Tonka model unleash your wildest stylistic dreams in a way that both benefits veterans and hearkens back to your childhood. The Black Ops model is coated in special black paint and purchasing this specific package not only produces a super slick black powder coating throughout the frame and cabin of your vehicle but also benefits the Wounded Warrior Project. You can get into a beautiful brand-new model and help those that protect us all on the same trip.
As for the Tonka trim, who didn't play with Tonka trucks in the sandbox or driveway at some point as a kid? Make your favorite toy and sandcastle builder come to life for you and your family with this iconic package — your 10-year-old self won't believe it!
Ford SCA Performance Lifted Trucks are available in the Black Widow and Apex packages, which leave no stone unturned when making your truck as futuristic as possible. Every inch of these broad-shouldered beasts was meticulously crafted to give drivers everything and more when they get behind the wheel. Coupled with luxury and technology that only seems to be found in the nicest sedans and sports cars, everything you could want from your dream truck is all right here.

This is no bravado, these well-built features are meant to be useful for you every day and the premium materials used throughout the cabin are ready and prepared for you to get them dirty. This is where the future of trucks is going, so make sure you're at the front of the line and not left in the dust in something that can't perform up to par.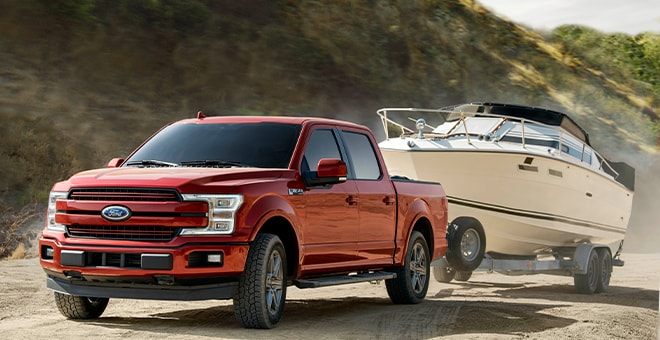 Your Selection of Ford Performance Trucks in Atlanta, GA
We'll bet the world of Ford performance trucks already sounds impressive and that you're ready for more. More is indeed what you get with great Tuscany Trucks like the Tonka F-150 or the F-150 K2 from our Rocky Ridge truck inventory. So, without further ado, let's look at some of the choices you'll get: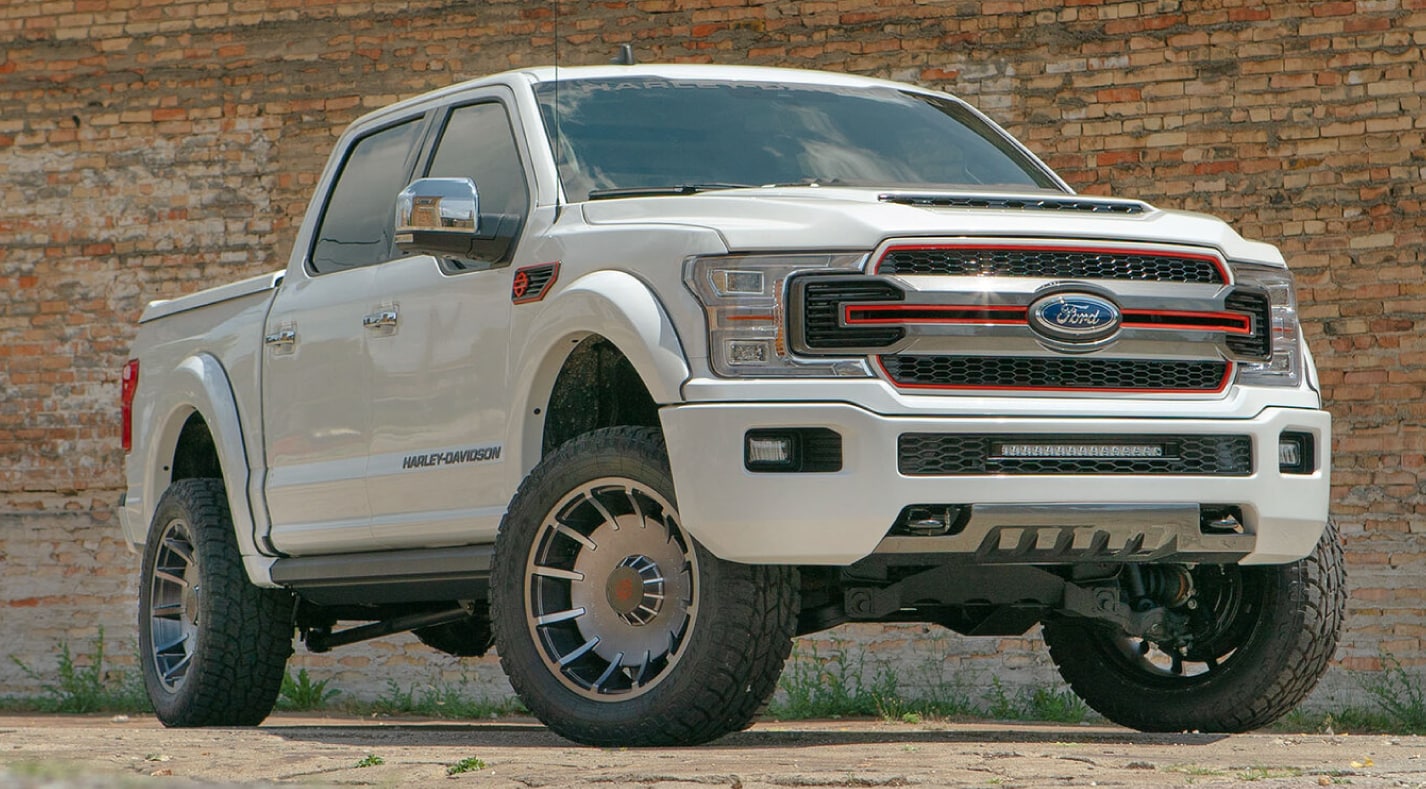 Tuscany Trucks Harley Davidson F-150
---
Two all-American icons join forces — welcome to the Harley-Davidson F-150. At first glance, you'll know this beast means business thanks to signature orange accents, custom aesthetic elements like the vented hood, "Fatboy" wheels, custom exhaust outlets, Harley Davidson badging throughout, and much more. But "ready for business" goes much deeper, and you'll find performance enhancements all around to make it ring true. This includes a Harley Davidson branded supercharger bringing power to over a whopping 700 horsepower, a heavy-duty skid plate along with exclusive Fox shocks, a BDS suspension, and BF Goodrich all-terrain tires for off-road dominance, along with plenty more.
---
Tuscany Trucks Harley Davidson F-250
---
If the Harley Davidson F-150 seems cool but not big enough in the Ford performance trucks lineup, look no further than the Harley-Davidson F-250. Style points score just as high, with those iconic orange accents present along with the "Fatboy" wheels, vented hood, Harley-Davidson badges, and many more touches like the unique grille. The off-road abilities stand just as strong, as you'll also be getting a Fox shocks and BDS suspension setup, BF Goodrich all-terrain tires, and skid plates to boot. Like the F-150 version, all of this is factory-tuned for an optimal ride, and a motorcycle-grade premium leather-upholstered interior also awaits.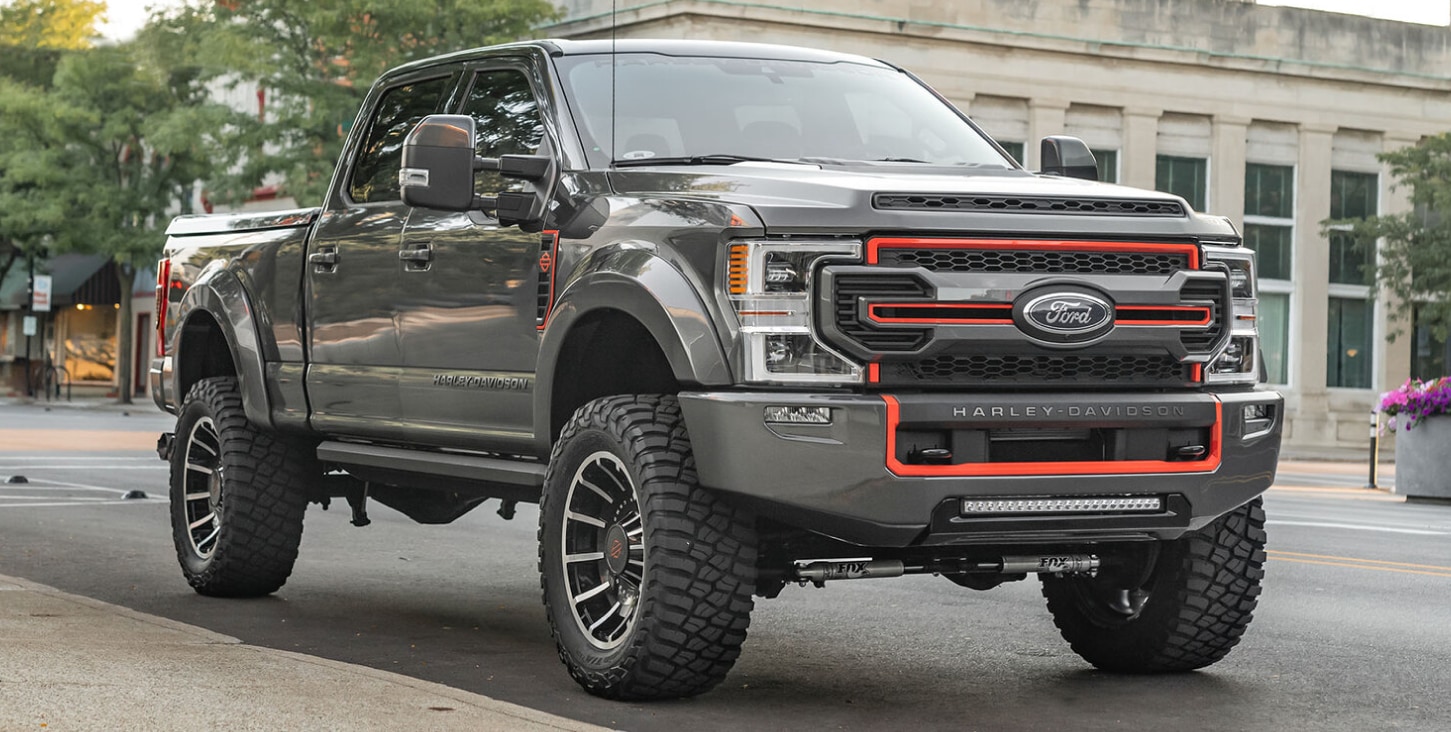 ---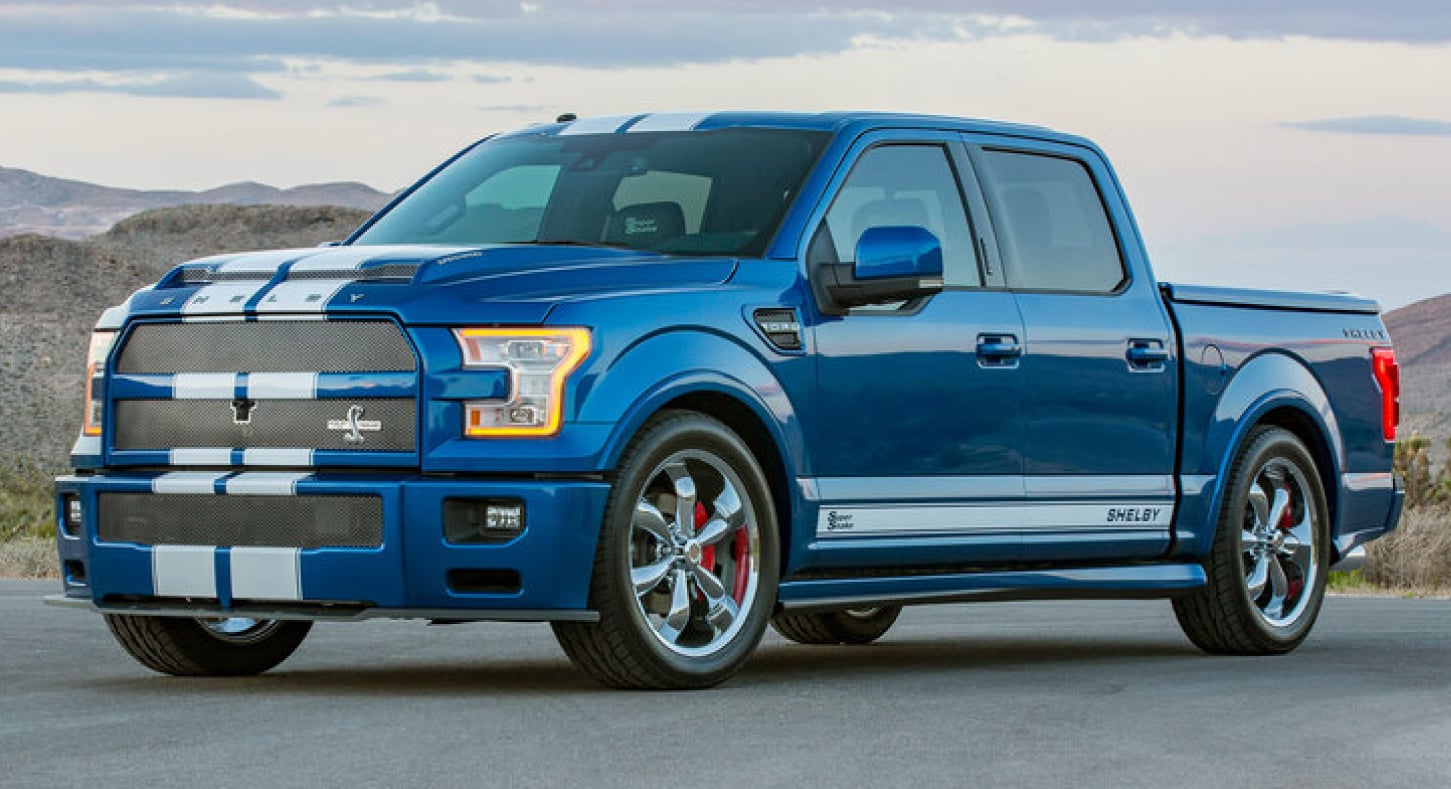 Tuscany Trucks Ford Shelby F-150
---
Shelby is as iconic to fast Ford vehicles as Harley-Davidson is to motorcycles. You'll have a couple of flavors to choose from: off-road optimized or street dominating. Both get you a Whipple supercharger setup pumping out 770 horsepower, with a performance exhaust to let everyone know who's the boss. You'll get a lifted Fox shock and BDS suspension system for the off-road version, while the street counterpart gets a lowered Shelby tuned suspension system. Plenty of aggressive looks, beefier brakes, and luxurious interior trim come with both. No matter how you have it, a Shelby F-150 offers you tire-shredding muscle-car performance with a luxurious cabin and massive practicality.
---
Tuscany Trucks Ford Shelby F-250
---
When you find a Shelby F-250 in our selection of new Tuscany trucks for sale, you'll be looking at one monster in particular: the F-250 Super Baja. Off-road rally ready, as the "Baja" name suggests, a Shelby F-250 comes with additions like a Baja Chase Rack for carrying full-size spare tires, high-clearance all-metal off-road bumpers, and plenty of race-ready looks. It's not just the looks, as Shelby tuned Fox shocks and a BDS suspension system, along with further performance modifications, offer true go-anywhere capabilities. Like with the other Ford performance trucks, you'll take command from within a custom, downright luxurious interior.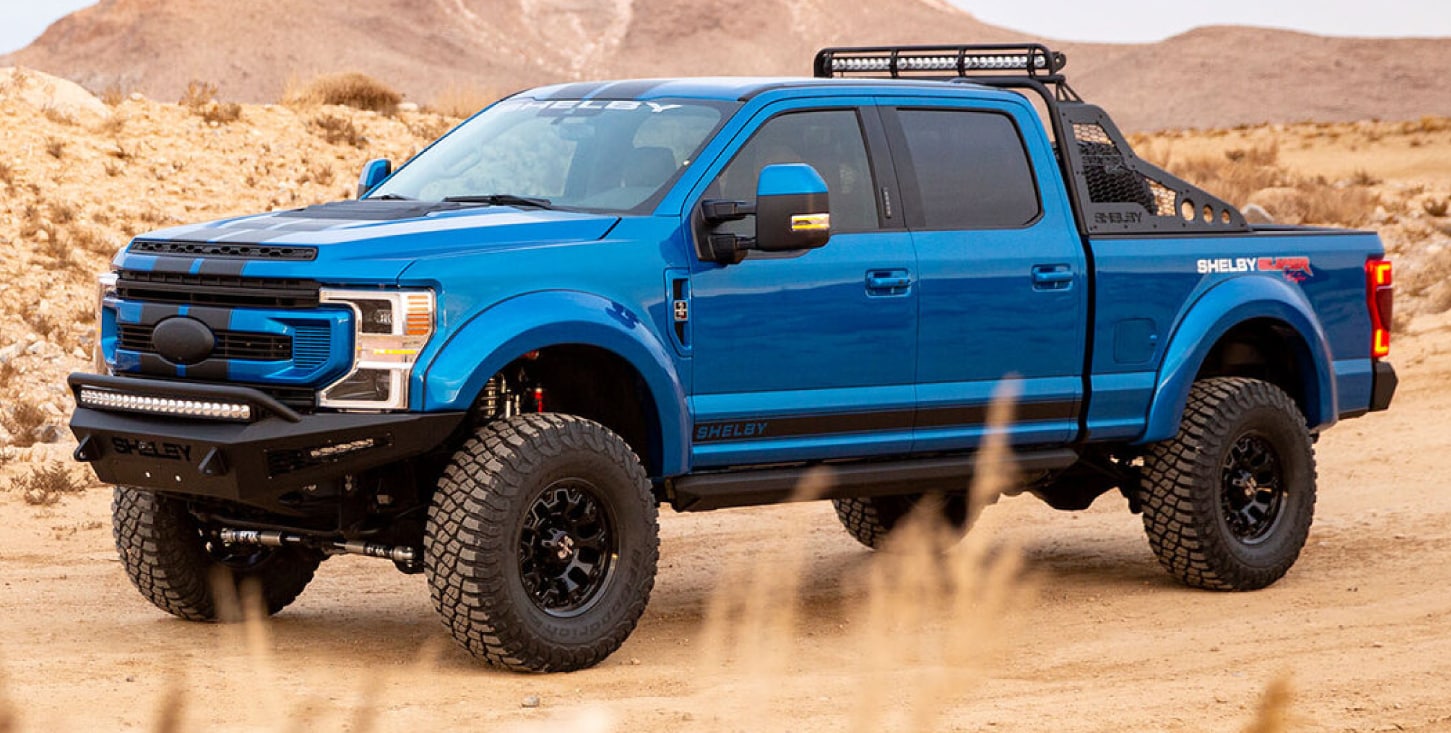 ---
Ford Performance Trucks Are Amazing
Ask your local dealership about the Ford performance trucks they have in stock and they'll be able to tell you all about them. You'll learn which models suit your driving desires best, all the crucial Ford performance trucks specs you need to know, and will even be able to compare the various models to other competition. We can't wait to introduce you to the future of power and precision and get you going where you need to go!