2021 Ford Bronco Sport Lease Deals & Special Offers
Check Out the All New Ford Bronco Sport at Jim Ellis Ford Sandy Springs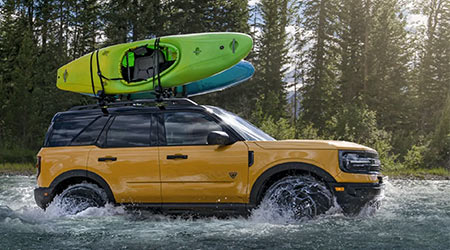 Your Ford Bronco Sport lease is waiting at Jim Ellis Ford in Atlanta. Keep in mind, though, that things born in the wild won't wait forever. So if you've been looking to separate yourself from the pack by getting into an SUV with breakout-style, capability, and pedigree, the Bronco Sport is your answer, and the time is now.
Please scroll down to learn more about model details and lessee benefits that you'll only find at Jim Ellis Ford. Explore our stable and find your Bronco Sport for sale or lease, then let your adventure begin.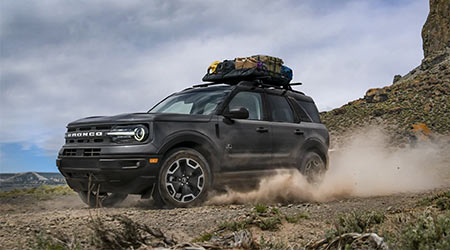 The Ford Bronco Sport Lease: A Party of Five
It's time to have fun. Remember that? When getting behind the wheel of your vehicle actually felt great and meant something? Any of our 2021 Ford Bronco Sport lease deals are designed to help you pick your favorite and have a blast. Choose from the following five inaugural models:
The Ford Bronco Sport
The Ford Bronco Sport Big Bend
The Ford Bronco Sport Outer Banks
The Ford Bronco Sport Badlands
The Ford Bronco Sport First Edition
You are going to love everything that's packed into all models like MyKey, remote entry, voice-activated technology, smartphone connectivity, an 8" touchscreen infotainment center, LED headlights & taillights, auto high-beam assist, a backup camera, USB & USB-C ports, blind-spot monitoring, rear cross-traffic assist, lane-departure warning, lane-keep assist, and our personal favorite: a bottle opening mechanism integrated into the rear liftgate.
Your Ford Bronco Sport Lease: Efficient Modern Power
Your Ford Bronco Sport lease from Jim Ellis is designed to keep money in your pocket, while your Bronco Sport is designed to keep you far from the house! You'll get out there and back again with efficient powertrains drawn forward by a 1.5L 3CYL turbo with EcoBoost that produces 181hp. Find more with the 2.0L turbo that generates 254hp. Outdoor enthusiasts everywhere will rejoice as the Bronco Sport has full-time 4x4 with five GOAT (Go Over Any Terrain) modes and an 8-speed automatic transmission.
Your Ford Bronco Sport Lease: Tell Better Stories
What fun would an amazing new car be if the fun stopped when you brought it home and it stayed in the driveway? Your Ford Bronco Sport lease is your new passport to anywhere, and with available accessories and styling options, you won't need a camera to take selfies to prove where you've been. Your inspired re-telling will be enough. Every moment stands out with colors like Cyber Orange, Kodiak Brown & Area 51. Add a roof-top tent, camp awning, tow package, console lockbox, all-weather protection, and more. Cloth seats are standard, and leather is available in handsome brown or navy trims.
Your best stories start right now. Contact a Bronco Sport specialist and get blown away by all the accessories and innovations that are waiting for you simply by leasing a Ford Bronco Sport.
FAQs
We've put together some answers to a few of the most common questions that we get here at Jim Ellis Ford about the Ford Bronco Sport lease.
Which models of the Ford Bronco Sport are available to lease?
Right now, we offer four popular trims. We have the Ford Bronco Sport in Carbonized Gray and the Big Bend in Carbonized Gray, Shadow Black, Alto Blue, Cactus Gray, Iconic Silver & Area 51. We also have the Outer Banks in Carbonized Gray, Cactus Gray & Shadow Black, as well as a Badlands model in Kodiak Brown.
How much is it to lease a 2021 Ford Bronco Sport?
The lease programs change every month, and this month's program is one of the most aggressive that we've seen. Take your Ford Bronco Sport lease by the reins for as little as $339 per month with just $3,299 down on a 36mo lease.
Jim Ellis Ford. Home of Wild Bronco Sport Lease Offers
As a proud member of the Jim Ellis Auto Retailers family, Jim Ellis Ford offers personalized service in a way that has been keeping Atlanta drivers coming back for nearly 50 years. Real 4x4 enthusiasts have been waiting for the Ford Bronco to make its comeback, and amazingly, there are three variants to choose from. All of them will take you anywhere you want to go, with enough technology and style to refresh your daily routine. With a dealer group as large as we are, we are pleased to offer Ford Bronco Sport lease specials that will set the standard that everyone else will try to follow. So come join us. Break out ahead of the pack. Your sunsets are waiting.